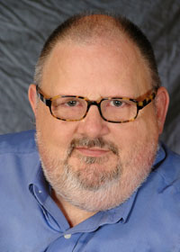 Andrew Cochran is the creator of Theodore Tugboat and the founder of Cochran Entertainment. He created Theodore Tugboat when he told his 3 year old son stories about tugboats and it became a television series. He was the producer of the series.
Andrew also worked for CTV News, W5 and Canada A.M. Other productions by his company included the family movies and drama series, Pit Pony, and a 26-part documentary series, Life on the Internet, which was the first long-form reporting about the Internet.
Cochran's company also commissioned an ocean-going replica of Theodore, the Theodore Too. The life-sized tugboat, complete with moving eyes and five-foot smile, traveled down the east coast in the year 2000 and became an official ambassador of the United States National Safe Boating Council and mascot for the U.S. Coast Guard. It launched National Safe Boating Week in Washington D.C.
Gallery
Ad blocker interference detected!
Wikia is a free-to-use site that makes money from advertising. We have a modified experience for viewers using ad blockers

Wikia is not accessible if you've made further modifications. Remove the custom ad blocker rule(s) and the page will load as expected.