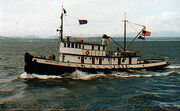 In 110 years of service the Arthur Foss has come to be a well-known and beloved site on the shores of Puget Sound and the surrounding area. Built in 1889, the year Washington became a state, the Arthur Foss, has had a long and distinguished career. From 1898 to 1901, in response to the clamor of fortune-seekers heading north to answer the call of the Alaskan Gold Rush, the Arthur towed barges between Seattle and Skagway, Alaska. In 1933, the Arthur made her debut on the silver screen in MGM's classic Tugboat Annie as the Narcissus. She survived a narrow brush with fire in 1937 to make her way to Pearl Harbor towing a Navy graving dock in 1941.
After years of hard work and service, the Arthur Foss was retired in 1968. In recognition of her important contribution to keeping the past alive, the Arthur Foss was declared a National Historic Monument on her 100th birthday in 1989. Ten months ago, Arthur was dry docked and received a clean bill of health from a professional surveyor who expressed surprise that a 110-year-old vessel could be in such good condition.
Today, the Arthur Foss can be spotted traveling the shores of Seattle and the surrounding communities, educating and entertaining visitors at maritime festivals and events.
Gallery
Ad blocker interference detected!
Wikia is a free-to-use site that makes money from advertising. We have a modified experience for viewers using ad blockers

Wikia is not accessible if you've made further modifications. Remove the custom ad blocker rule(s) and the page will load as expected.