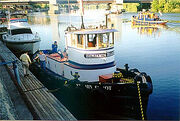 Benjamin Elliot is a Model Bow Tug that represents Theodore Too/The Theodore Tugboat series
Whether she is shifting contractors' equipment, sand barges, or running a salvage operation, the Benjamin Elliot always ensures the job is done right. Named after her captain's six year old son, the Ben has been a good friend to barges in the canal and Great Lakes for thirty years.
The Benjamin Elliot was built in 1960 in Somerset, Massachusetts by the Gladding Hearn Shipyard. She operates on a 650 horsepower engine turning a 60" x 48", five blade stainless steel wheel through a six to one reduction gear. This namesake tug's 15 foot air draft enables it to operate throughout the entire New York canal system.
The Ben was also contracted to tow the USS Slater, a World War II era destroyer escort, from New York City to Albany for a museum. Congratulations to the Benjamin Elliot, whose crew and captain work hard to keep the New York Canal System running smoothly.
Gallery
Ad blocker interference detected!
Wikia is a free-to-use site that makes money from advertising. We have a modified experience for viewers using ad blockers

Wikia is not accessible if you've made further modifications. Remove the custom ad blocker rule(s) and the page will load as expected.