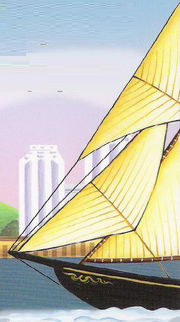 Bluenose II was famous ship who visited the Halifax Harbour. Bluenose was first launched in July 24th, 1963.
Bio
Bluenose II is a ship who everyone loves. Bluenose II once visited the Halifax Harbour. The tugboats tried to figure out who she was as a mystery guest. With the help of their friends, Theodore Too and Lucy Tug find and meet the beautiful Bluenose II, they make a brand new friend and learn just why everyone loves her.
Appearances
Bluenose II only appears in the books Theodore Too and the Mystery Guest of which Theodore Too/Theodore and Lucy try to solve who the mystery guest is.
Gallery
Ad blocker interference detected!
Wikia is a free-to-use site that makes money from advertising. We have a modified experience for viewers using ad blockers

Wikia is not accessible if you've made further modifications. Remove the custom ad blocker rule(s) and the page will load as expected.