"Barges are so nice and quiet."
— Theodore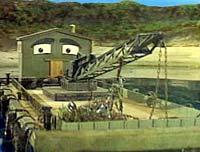 Bobby
Bobby is a salvage barge, who, like all the other barges, is a good friend of the tugs and always quiet. He is very encouraging and lifted George's spirits when he didn't win an award. For a while, he was part of the Salvage Team with Theodore, Rebecca and Northumberland. They all worked together to find an old rusty ship's anchor at the bottom of the ocean.
Appearances
Trivia
There are a few episodes where Bobby does not have his crane arm on his deck.
Bobby's model would later be used for Bayswater.
Gallery