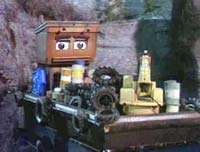 Bonnavista
Bonnavista is a small red barge who usually works with Hank. She is always calm and content with whatever goes on. Carla once towed Bonnavista to a little cove in a way of getting attention and got Emily in trouble. A friendly hard worker, she is constantly working up and down the harbour, repairing all the docks, bridges and buildings along the shoreline, keeping it generally maintained.
Appearances
Trivia
Merchandise
Ad blocker interference detected!
Wikia is a free-to-use site that makes money from advertising. We have a modified experience for viewers using ad blockers

Wikia is not accessible if you've made further modifications. Remove the custom ad blocker rule(s) and the page will load as expected.