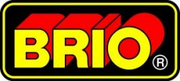 Brio created many wooden toys for the Theodore Tugboat series, which were compatible with other Brio wooden train sets. The line has been discontinued since the series has ended. The line started in 1998 and ended in 2000.
Characters
Sets
Trivia
The packaging for the tugboats were designed to be reusable to store the characters.
The packaging contained one of two different catalogs.
The Dispatcher and Benjamin are the only characters released to not have magnets.
The tugboats and the Dispatcher have moving eyes.
All the items have a sticker that has a copright date of "1989", this is an error as that is the year a trademark was put for the name "Theodore Tugboat" by Andrew Cochran.
Gallery
Prototypes
Track Layouts