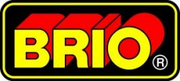 Brio created many wooden toys for the Theodore Tugboat series, which were compatible with other Brio wooden train sets. The line has been discontinued since the series has ended. It is not clear what years these models were produced, or when they were discontinued.
Characters
Sets
Trivia
The packaging for the tugboats were designed to be reusable.
The packaging contained one of two different catalogs.
The Dispatcher and Benjamin are the only characters not to have magnets.
The tugboats and the Dispatcher have moving eyes.
Gallery