"Cool!"
— Carla's catchphrase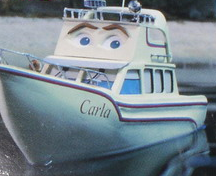 Carla
Carla is a zany cabin cruiser who only works to please herself.
Bio
She loves to give the tugs funny nicknames and usually refers to the Dispatcher as the "Dishwasher". Carla is always looked at as "cool" because she is never afraid to do what she wants. She occasionally runs out of control and causes peer pressure on all the tugs. Carla mainly hangs out with Emily and loves to go exploring with her. Whenever Carla goes over the line, Emily is usually the one to tell her so and Carla always knows when she makes a big mistake.
Persona
Carla can be mischievous and troublesome since she always wants the tugboat's attention just to have an adventure, if not she can hide barges and other goods which causes confusion. She also likes things to be thrilling in suspense and surprises with her friends. She is also not shy and very hyper at times.
Livery
Carla is painted cream white with maroon linings around her bow and cab.
Appearances
Trivia
Quotes
Four ducks. Ok. Quack, Quack, Quack, Quack!
I don't find that funny.
Ha, ha. Nice to meet you Georgie Porgie!
Hello, Honk!
Hello Theodore. I hope you don't turn out to Beabor!
Yes, Mr. Dishwasher!
-A conversation with Carla and the tugs, Carla the Cool Cabin Cruiser, second season
Carla: Beobore!
Carla: Looking for bumpers, Honk?
-Carla getting and asking for attention from Theodore and Hank, Theodore and the Missing Barge, third season
Merchandising
Gallery
Behind the Scenes
Merchandise Gallery
References
Ad blocker interference detected!
Wikia is a free-to-use site that makes money from advertising. We have a modified experience for viewers using ad blockers

Wikia is not accessible if you've made further modifications. Remove the custom ad blocker rule(s) and the page will load as expected.