"Now that's the funniest noise I've ever heard!"
— Caroquette to George, George's Funny Noise, fourth season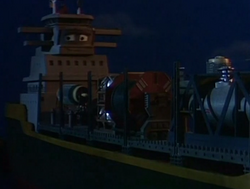 Caroquette

Caroquette is a container ship who Theodore had a hard time keeping steady when George was doing tough tugging. Caroquette has many speaking roles, including the time where she, Theodore, and Hank had a good laugh when George made a funny noise. Caroquette is also the only ship who has a Southern accent.
Bio
Caroquette was a sensible container ship. There was a time when she was coming into the harbour and George, Theodore and Hank were just about to bring her in, until Hank makes a funny noise, and everyone laughs, until George makes one of the most funniest noises that Caroquette's ever heard! George didn't like to be laughed at, and he hid under Owan, the oil rig.
There was also a time when Theodore and George brought her in. Caroquette warns the two to keep her steady because her cargo can roll off her deck really easily. There was tough winds the next day, and that's when Theodore had trouble keeping Caroquette steady and have a smooth ride out to the ocean.
Caroquette also arrived to the harbour really late because Blandford, a marker buoy was really crooked and she almost couldn't find the harbour that day. That's because Theodore was starting to be bossy and sound like George when he had a new job as being in charge of all the bell buoys.
Personality
Caroquette can be really sensible like a few other ships, including Gloria Cornwallis. She can sometimes be offended if anyone does not give her a good welcome or saying that she's late coming into the harbour.
Appearances
Trivia
Unlike a few other ships, Caroquette has a Southern accent.
Although Caroquette is a container ship, she didn't carry any of her cargo in containers in Theodore's Tough Tugging.
Caroquette's name comes from the town of Caraquet in New Brunswick, Canada.
Ad blocker interference detected!
Wikia is a free-to-use site that makes money from advertising. We have a modified experience for viewers using ad blockers

Wikia is not accessible if you've made further modifications. Remove the custom ad blocker rule(s) and the page will load as expected.