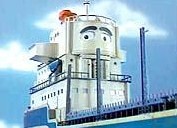 Chester
Chester is a container ship that wanted to have flags when the tugs were having their flag day.
Appearances
Trivia
He was named after the seaside village of Chester in Nova Scotia.
Chester is the only container ship to be merchandised (in this case Brio).
The prototype for the Brio model was named "Charlotte the Container Ship", and was fully painted as well. This was most likely due to a miscommunication between Brio and Cochran Inc.
Chester's hull was previously used for Clementine. He is the last ship to use the same hull.
Chester's stack was previously used for S.S. Malarkey and Oliver.
Merchandising
Gallery
Merchandise Gallery
Ad blocker interference detected!
Wikia is a free-to-use site that makes money from advertising. We have a modified experience for viewers using ad blockers

Wikia is not accessible if you've made further modifications. Remove the custom ad blocker rule(s) and the page will load as expected.