"Time to wake up, tugboats!"
— Chimey, Big Harbour Fools Day, third season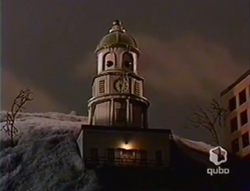 Chimey
Chimey is the harbour's clock tower. He is seen in many episodes but speaks only once. In the episode "Big Harbour Fools Day", he is mentioned by name, and it is discovered he is the tugboats' personal "wake up call".
Appearances
Basis
Chimey is modelled after the Halifax Town Clock on Citadel Hill.
Trivia
Gallery
Behind the Scenes
Ad blocker interference detected!
Wikia is a free-to-use site that makes money from advertising. We have a modified experience for viewers using ad blockers

Wikia is not accessible if you've made further modifications. Remove the custom ad blocker rule(s) and the page will load as expected.