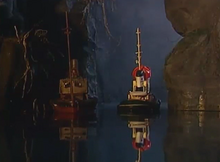 Cobequid Cove is a cove just outside the harbour. Hank once dropped his lifeboat in here, and Theodore thought it was very scary. But soon afterwards, Cobequid Cove becomes one of Theodore's favourite places.
Trivia
Cobequid Cove is only seen in the episode The Dark and Scary Cove.
Cobequid Cove is named after Cobequid Bay in Nova Scotia.
Gallery