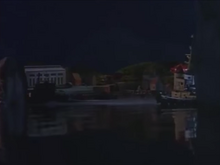 Dock Number 23 is the dock where Haliburton lives. This is an old part of the harbour but was merely disused as the time went by. Chester the Container Ship docked here to avoid the other boats in George and the Flags, and Sigrid came here to get some anchor cables for Owan the Oil Rig in Owan On the Loose, only for a crane to collapse on her.
In Theodore and the Haunted Houseboat, the dock appears old and worn down but in Owan On The Loose and George and the Flags, it appears much newer.
Gallery
Ad blocker interference detected!
Wikia is a free-to-use site that makes money from advertising. We have a modified experience for viewers using ad blockers

Wikia is not accessible if you've made further modifications. Remove the custom ad blocker rule(s) and the page will load as expected.