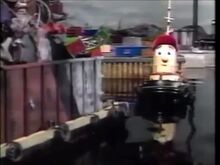 Dock Number 9 (know as "The Scrap Yard Dock") is a dock far away up The Big Harbour. It's old and nobody is there anymore. George tried to hide here once because he was scared to go to The Repair Dock.
It appears in the episodes "True Blue Friends" and "George Buzzes the Dock".
Trivia
Gallery
Ad blocker interference detected!
Wikia is a free-to-use site that makes money from advertising. We have a modified experience for viewers using ad blockers

Wikia is not accessible if you've made further modifications. Remove the custom ad blocker rule(s) and the page will load as expected.