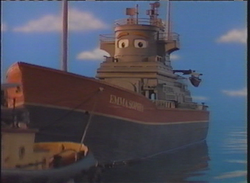 Emma Sophia
Emma Sophia is a small ship who Theodore was to bring into the harbour, loaded with kumquats. At one time, she had an encounter with Foduck, who she questioned if he was "real", with all of his strange safety equipment working.
Appearances
Trivia
Emma Sophia's superstructure was sold on eBay.
Gallery
Ad blocker interference detected!
Wikia is a free-to-use site that makes money from advertising. We have a modified experience for viewers using ad blockers

Wikia is not accessible if you've made further modifications. Remove the custom ad blocker rule(s) and the page will load as expected.