"That hurt!"
— Gloria Cornwallis, Bumper Buddies, first season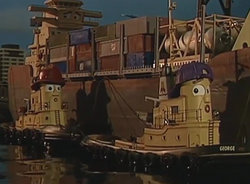 Gloria Cornwallis
Gloria Cornwallis is a big container ship.
Bio
Gloria Cornwallis only spoke in the episode Bumper Buddies, when Theodore, George, and Foduck took her out of the harbour and Theodore accidentally crashed her.
Personality
Gloria Cornwallis can be described as a sensible container ship. She doesn't like being bumped.
Appearances
Trivia
Ad blocker interference detected!
Wikia is a free-to-use site that makes money from advertising. We have a modified experience for viewers using ad blockers

Wikia is not accessible if you've made further modifications. Remove the custom ad blocker rule(s) and the page will load as expected.