"How do you do? I'm very pleased to meet you too."
— Gregor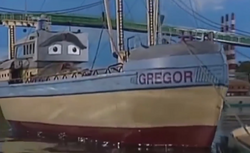 Gregor
Gregor (in Cyrillic script: Григор) is a fishing trawler from Russia who comes to The Big Harbour in need of a new propeller. Emily, who has never met a Russian ship, is eager to meet him. However, she was too busy inspecting anchors. She finally decided to give Gregor a tour of the harbour while doing her job at the same time.
Appearance
Trivia
Gallery
Ad blocker interference detected!
Wikia is a free-to-use site that makes money from advertising. We have a modified experience for viewers using ad blockers

Wikia is not accessible if you've made further modifications. Remove the custom ad blocker rule(s) and the page will load as expected.