"Hello, bumper-bum!"
— Bayswater
Hank Hurts a Ship
Director(s)
Producer(s)
Writer(s)
Narrator
Previous episode
Next episode
Hank Hurts a Ship is the second episode of the fifth season.
Plot
Bayswater Barge calls Hank a 'bumper bum.' Hank knows that the barge is only trying to be funny, but Hank isn't sure he likes it. When Bayswater continues, Hank retorts with his own names for Bayswater. They both laugh. The next day, Hank repeats the game, but this time its with a newly arriving ship named Inverness. To his surprise, instead of laughing, Inverness turns around to leave. When Theodore discovers the reason for Inverness' departure, he is so angry with his friend that he calls Hank a name. Hank is hurt, but the incident helps him understand how Inverness must have felt. He goes after Inverness, apologizes and welcomes him back to the Big Harbour.
Characters
Video Release
Watch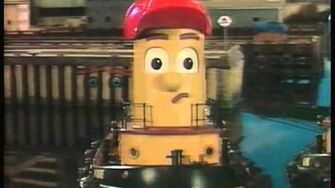 Ad blocker interference detected!
Wikia is a free-to-use site that makes money from advertising. We have a modified experience for viewers using ad blockers

Wikia is not accessible if you've made further modifications. Remove the custom ad blocker rule(s) and the page will load as expected.