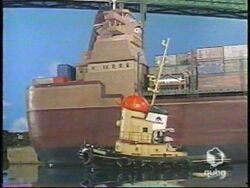 Henry Eben
Henry Eben is a giant container ship that Theodore, George and Hank docked before Theodore's engine broke down. He also appears during Cumberland's visit to the harbour, being towed by George and Theodore.
Appearances
Trivia
Ad blocker interference detected!
Wikia is a free-to-use site that makes money from advertising. We have a modified experience for viewers using ad blockers

Wikia is not accessible if you've made further modifications. Remove the custom ad blocker rule(s) and the page will load as expected.