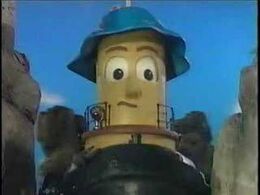 The Pictou Peaks are an archipelago of rocks located out to sea from the Big Harbour. Emily went here to practice turns but became stuck between two twin peaks. She also drifted through the peaks in her sleep. Canso Colossus, the King of Super Tankers, steered off course and crashed into one of the rocks, damaging his hull.
Trivia
The Pictou Peaks are named after the small town of Pictou, Nova Scotia, which is located near the Northumberland Strait (the basis of the submarine Northumberland's name). Pictou was the landing place of 200 Scottish immigrants (the first of their kind to emigrate to Canada) in 1773.
Ad blocker interference detected!
Wikia is a free-to-use site that makes money from advertising. We have a modified experience for viewers using ad blockers

Wikia is not accessible if you've made further modifications. Remove the custom ad blocker rule(s) and the page will load as expected.