"Is my engine louder than Foduck's? "
— George asking Theodore
Pugwash is Gone!
Director(s)
Producer(s)
Writer(s)

Andrew Cochran
Jeff Rosen

Narrator
Previous episode
Next episode
Pugwash is Gone! is the twenty-seventh episode of the fifth season.
Plot
George and Foduck both want to be in charge of a salvage mission with Pugwash, The Undersea Explorer. Once they get going the tugs are so busy trying to outdo each other that they forget about the mission and lose Pugwash. Pugwash finds her own way back, but George and Foduck learn that they have to pay attention to what they are doing.
Characters
Video Release
Trivia
Throughout the episode, Foduck is wearing a Uniform signal flag.
The signal flags that Foduck shows to Dorothy are Uniform, X-Ray, and Tango.
Shelburne's crane hook is the same as the hauling rope hook Hank had in Hank and the Sunken Ship.
Watch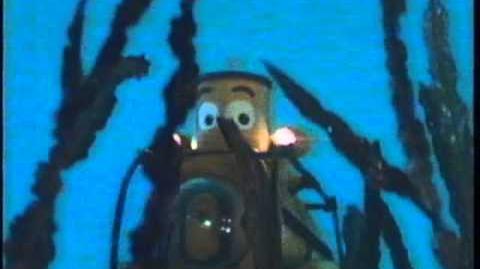 Ad blocker interference detected!
Wikia is a free-to-use site that makes money from advertising. We have a modified experience for viewers using ad blockers

Wikia is not accessible if you've made further modifications. Remove the custom ad blocker rule(s) and the page will load as expected.