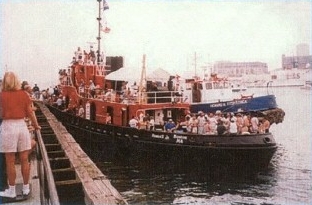 Russell Junior is a tugboat that was built in 1944, Ira S. Bushy Yard, Boston, Massachusetts.
Formerly the United States Coast Guard Cutter, Yankton, the Russell Junior has had many adventures since her construction in 1944. While a member of the Coast Guard fleet, the Russell Junior was stationed in the waters between Delaware Bay and Maine. Her duties included ice breaking and search and rescue missions, several of which she received commendations for.
After her decommission in 1987, she was sold at a government auction and took on her new name and new duties. Now, the Russell Junior's main responsibility is safely docking ships and occasionally towing construction vessels in Boston Harbor and the surrounding area. While in the Coast Guard she operated with a crew of twenty-two; in her current position she is manned by only four experienced seamen.
In 1989, the Russell Junior traveled to Theodore Tugboat's home: Halifax, Nova Scotia's Big Harbor - to retrieve a small tanker. On her way up the east coast, she battled a severe storm that produced waves as high as her mast. Fortunately, the Russell Junior made her way safely through the treacherous waters, met the tanker, and towed her back to Boston.
Gallery
Ad blocker interference detected!
Wikia is a free-to-use site that makes money from advertising. We have a modified experience for viewers using ad blockers

Wikia is not accessible if you've made further modifications. Remove the custom ad blocker rule(s) and the page will load as expected.