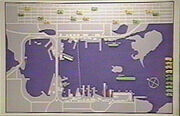 The Big Harbour is the harbour in which Theodore and his friends live. It is a major port with an oil refinery, container terminal, Oceanic Institute, Coast Guard, Repair Dock, Junk Dock, Ferry Terminal, and the Naval Dock. Located in Nova Scotia, Canada, the Big Harbour is the friendliest harbour in the world.
Residents
Theodore
Emily
Hank
George
Foduck
The Dispatcher
Chimey
Donald Dock
Bedford Buoy
Lilly the Lighthouse
Phillip and Filmore
Kingston
Pearl
Petra
Shediac
Benjamin Bridge
Clayton
Rebecca
Constance
Carla
Barrington
Bonnavista
Bayswater
Brunswick
Guysborough
Jasper
Shelburne
Bobby
Bluenose
Nautilus
Northumberland
Haliburton
Blankston
Sigrid
Owan
Trivia
Gallery
The Great Ocean Tug and Salvage Company Dock
Benjamin Bridge
Willy's Island
The Oceanic Institute
Fuel Dock
Oil Refinery
Repair Dock
Supply Shed (Shediac)
Container Terminal
Harbour Master's Office
Junk Dock
Old Dock Number 9
Chimey/Citital Hill
Buildings
Display Of The Harbour at the Maritime Museum Of The Atlantic
Ad blocker interference detected!
Wikia is a free-to-use site that makes money from advertising. We have a modified experience for viewers using ad blockers

Wikia is not accessible if you've made further modifications. Remove the custom ad blocker rule(s) and the page will load as expected.