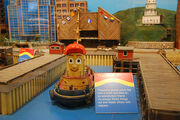 There are some buildings in the harbour with faces, but have never been spoken of, had the chance to speak, etc. These include the red warehouses, and the long blue house.
Trivia
Merchandising
The small red warehouse was previously available as an ERTL model.
Gallery
Ad blocker interference detected!
Wikia is a free-to-use site that makes money from advertising. We have a modified experience for viewers using ad blockers

Wikia is not accessible if you've made further modifications. Remove the custom ad blocker rule(s) and the page will load as expected.