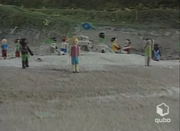 The children are human characters shown in Theodore Tugboat. They have a small role in 'The Big Harbour Clean Up Contest', when they return to the beach after Theodore remove the garbage with waves. They are also seen overlooking the tugboats on Benjamin Bridge.
Appearances
Trivia
They are the only human characters besides the Harbour Master to appear in the series.
Gallery
Ad blocker interference detected!
Wikia is a free-to-use site that makes money from advertising. We have a modified experience for viewers using ad blockers

Wikia is not accessible if you've made further modifications. Remove the custom ad blocker rule(s) and the page will load as expected.