Ad blocker interference detected!
Wikia is a free-to-use site that makes money from advertising. We have a modified experience for viewers using ad blockers

Wikia is not accessible if you've made further modifications. Remove the custom ad blocker rule(s) and the page will load as expected.
"Theodore was a promising young tug from a small harbour up the coast when he first pooted into port. Bright eyed and bushy bumpered."
— The Harbour Master, Theodore and the Big Harbour, First season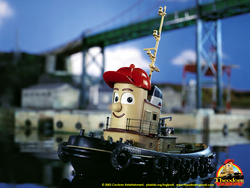 Theodore
Theodore is the main protagonist of the series. He is one of the smaller tugs and wears a red baseball cap. He is a harbour tug, like his best friend, Hank.
Job
He is one of the two harbour tugs along with Hank, moving barges and being pushers during ship docking operations. In the books by Michelle Mulder, Theodore is seen with another harbour tug named Lucy.
Personality
He is kind, but sometimes cheeky and fussy. He will help any tug in need. His goal is to be an ocean tug and to travel to other harbours across the world. But before that he must master the job of a harbour tug. He always tries to be friends with everyone who visits the Big Harbour.
Basis
According to Andrew Cochran, to build Theodore Too, he was planning to modify a tugboat that looks like Theodore. It was to be used for marketing and promoting water safety. Eventually after all the hard research, none were close enough just to modify as Theodore. As a decision, Andrew Cochran has decided to build a Theodore from scratch design by model maker of the show Fred Allen. So thus it has come to being that Theodore is of a fictional design.
Appearances
He also appeared in all of the books that was published when the series was still airing. He also appeared in four books that was written by Michelle Mulder under the name Theodore Too.
Trivia
Theodore Too's base model was sold on ebay.
Theodore's television series model is currently on display at the Maritime Museum of the Atlantic.
Theodore's whistle can be heard in several episodes of Thomas the Tank Engine and Friends at Brendam Docks since the CGI switch.
Theodore's whistle can be heard at the end of the Mayday episode, "Collision Course: Sinking of the Express Samina".
In the Swedish version, Theodore is called Bosse.
Merchandising
Gallery
Behind the Scenes
Merchandise Gallery