"I don't need tugboats!"
— Cumberland's remark about tugboats
Theodore's Big Friend/
Theodore and the Stubborn Ship
Director(s)
Producer(s)
Writer(s)

Jeff Rosen
Andrew Cochran

Narrator
Previous episode
Next episode
Theodore's Big Friend retitled Theodore and the Stubborn Ship is the fourteenth episode of the third season.
Plot
Theodore was watching the sunrise, but he felt sad. He misses Emily. Theodore knew that he always watched the sunrise with his friend, Emily. Then, he gazed at two ships distinctively seen outside the harbour. One was going back out into the ocean; but one was heading towards the harbour. Theodore quickly got excited. He thought that maybe one of those ships was going to visit the harbour. He then thought that he can help lead one of them into their dock. He then thought happily that maybe he can make a big new friend out of them. Theodore felt proud of his happy thought.
The next morning, The Dispatcher gathered the tugs for their morning work meeting. Theodore wanted The Dispatcher to talk about that big ship, until The Dispatcher said the most surprising thing: "He doesn't need tugboats!" The ship had very special engine that can make him travel to his dock safely. Theodore felt a little sad, but he still wanted to make a new big friend.
Later that afternoon, Hank was towing a very small cargo ship. Theodore soon saw Cumberland steering into the harbour, but then, inexplicably, he then just stopped strangely right in the middle of the harbour. He was eventually blocking the harbour. Theodore and Hank stared at Cumberland in amazement, saying that he is bigger than they both thought.
When Theodore was finished with his work, he set off to meet Cumberland, the container ship. It seemed to take forever for Theodore to get up in front of Cumberland. When Theodore at last got in front of Cumberland, he started introducing himself. Cumberland didn't see to notice him until Theodore finally got his attention. Cumberland then blared to him his name. It didn't look like he wanted to talk to Theodore. Theodore wondered if Cumberland needed help getting to his dock, but then Cumberland said the thing that The Dispatcher said earlier: "I don't need tugboats!" and then, he turned his face away from Theodore towards the ocean. Theodore felt so depressed that Cumberland was being really stubborn. Theodore wanted to make a new friend, but Cumberland didn't accept it.
Cumberland was still in the same spot when George and Theodore was guiding Henry Eben, the container ship to his dock. George complained that things were taking longer and he, Theodore and the ship were being delayed. Theodore tried calling out to him, but the great ship said nothing. George admitted that the ship was very rude and Theodore just had to agree so.
That night, The Dispatcher warned Theodore that Cumberland was still in the same exact spot, and ships could bump into him and cause a terrible collision. The Dispatcher wanted Theodore to spend the entire night with Cumberland and watch out for other ships so they don't collide with him. Theodore went to Cumberland's spot. Theodore told Cumberland that he was staying the night with him. Cumberland was about to get annoyed and say "I don't need tugboats" when Theodore interrupted. Cumberland then finally let Theodore watch out for him.
That night, Theodore kept a look out to make sure no ships or boats would collide into Cumberland.
When dawn started to break, Cumberland then explains that he is going home. Out of all of the big container ships in the harbour, Cumberland misses his friend Conrad Explorer. Cumberland told Theodore all about Conrad Explorer, and Theodore told that he misses, too, his friend, Emily. Theodore told Cumberland all about Emily. Then, Theodore had a marvelous idea!
Theodore and Cumberland watched the sunrise, and Cumberland and Theodore now became good friends. Cumberland finally admits that he may need a tugboat, especially a friend.
Characters
Trivia
First and only appearance of Conrad Explorer.
This is Cumberland's first speaking role.
Stock footage from Hank and the Hug and Emily the Vigorous is used.
This is the last episode to be Dubbed in Norwegian.
in Finland, this episode is called "Big Friend".
Goofs
In the Norwegian version, when the narrator says "The giant ship didn't say anything" the top of the set can be seen for a brief second.
When Cumberland says "I don't need..." the camera shakes.
When Theodore tells Cumberland that he's watching out for him, the end of the set can clearly be seen.
In Other Languages
| Language | Name | Meaning |
| --- | --- | --- |
| Norwegian | Theodor's Store, Nye Venn | Theodore's Big, New Friend |
| Finnish | Iso Ystävä | Big Friend |
Video Release
Gallery
Watch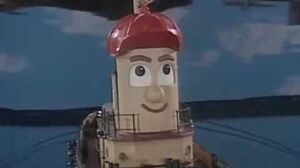 Ad blocker interference detected!
Wikia is a free-to-use site that makes money from advertising. We have a modified experience for viewers using ad blockers

Wikia is not accessible if you've made further modifications. Remove the custom ad blocker rule(s) and the page will load as expected.