"Home free!"
— Theodore and Hank
Theodore's Bright Night
Director(s)
Producer(s)
Writer(s)

Andrew Cochran
Jeff Rosen

Narrator
Previous episode
Next episode
Theodore's Bright Night is the thirty-second episode of the fifth season.
Plot
At first Theodore and Hank are disappointed when the ocean liner they are expecting doesn't arrive. They are even more disappointed when Constance, the Coast Guard Ship shows up instead. No one has ever really spent time with Constance, but she is always so worried about the rules that they are sure she won't be any fun to play with. The Coast Guard ship proves them wrong, introducing them to her favorite game searchlight tag. Hank and Theodore realize that it was easy to make friends with Constance once they gave her a chance.
Characters
Video Release
Watch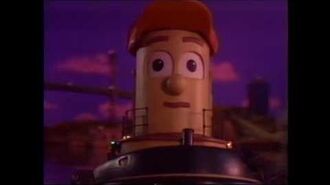 Ad blocker interference detected!
Wikia is a free-to-use site that makes money from advertising. We have a modified experience for viewers using ad blockers

Wikia is not accessible if you've made further modifications. Remove the custom ad blocker rule(s) and the page will load as expected.