"Quiet?! Ha! Who can be quiet with all this noise?!"
— Owan
Theodore's Tough Tugging
Director(s)
Producer(s)
Writer(s)

Andrew Cochran
Jeff Rosen

Narrator
Previous episode
Next episode
Theodore's Tough Tugging is the second episode of the fourth season.
Plot
Theodore is having a hard time working with George. The big tug blows too much smoke, makes too much noise and goes too fast. What George thinks is easy, Theodore finds hard. And George always interrupts Theodore's stories, making them seem unimportant. A visit to Owan, the Oil Rig reminds Theodore that people who are different can still be friends. After all, Owan is very loud, but his best friend is Northumberland, the sleepy, quiet submarine. Theodore sees that this odd pair accept their differences by talking things out. The next day, Theodore tells George exactly what he needs. Once George knows how Theodore feels, he is happy to help out.
Characters
Goofs
When Theodore is floating towards Owan, the oil rig's eyes are wonky.
Watch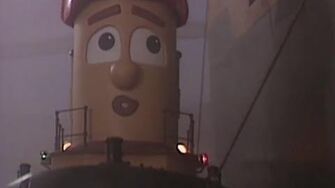 Ad blocker interference detected!
Wikia is a free-to-use site that makes money from advertising. We have a modified experience for viewers using ad blockers

Wikia is not accessible if you've made further modifications. Remove the custom ad blocker rule(s) and the page will load as expected.