"Where can my tugboat be. I must get these kumquats in."
"Oh yeah, kumquats. Very important. Uh, what exactly are kumquats?"
— Blandford and Emma Sophia
Theodore Gets Lost
Director(s)
Producer(s)
Writer(s)
Narrator
Previous episode
Next episode
Theodore Gets Lost is the seventh episode of the fifth season.
Plot
Theodore is excited because he is assigned to bring in Emma Sophia all by himself, but he loses his way in the fog and no one can hear him call for help over Lunenburg Lighthouse's foghorn. Luckily he runs into Digby (literally). Digby's cable gives him an idea. Digby can always tell where he's been simply by following the cable he has laid. Theodore decides that he, too, can retrace his steps. The strategy works. He ends up back where he started, and with help from Pearl, he starts over again.
Characters
Trivia
First appearance of Lunenburg and Emma Sophia.
Only episode where Lunenburg speaks.
Gallery
Watch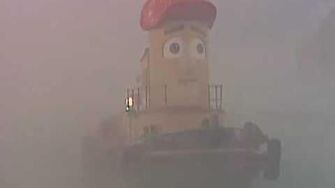 Ad blocker interference detected!
Wikia is a free-to-use site that makes money from advertising. We have a modified experience for viewers using ad blockers

Wikia is not accessible if you've made further modifications. Remove the custom ad blocker rule(s) and the page will load as expected.