Theodore Too and the Excuse-Me Monster
is a book written by Michelle Mulder.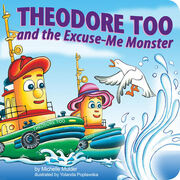 Plot
When Theodore Too, Lucy, and Guy Seagull see a splash in Halifax Harbour, Guy is sure it's a monster … until the splash says "excuse me" and Guy thinks he's met an excuse-me monster! But the splash is another kind of creature, who quickly wins over Theodore Too and his friends.
Characters
Ad blocker interference detected!
Wikia is a free-to-use site that makes money from advertising. We have a modified experience for viewers using ad blockers

Wikia is not accessible if you've made further modifications. Remove the custom ad blocker rule(s) and the page will load as expected.