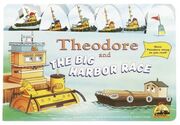 Theodore and the Big Harbor Race is a book written by Kerry Milliron and illustrated by Francesc Mateu. Published 2001-2002.
Plot
It's the annual Big Harbor Race! All the tugs are ready to go. Theodore doesn't think he can win—after all, he's one of the smallest tugs. But as the race continues, Hank gets distracted and Foduck has to put out a fire. . . . before he knows it, Theodore is in the lead!
Characters
Ad blocker interference detected!
Wikia is a free-to-use site that makes money from advertising. We have a modified experience for viewers using ad blockers

Wikia is not accessible if you've made further modifications. Remove the custom ad blocker rule(s) and the page will load as expected.