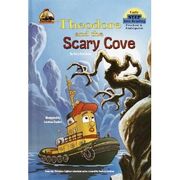 Theodore and the Scary Cove is a book published by Random House. It is based on the first season episode, The Dark and Scary Cove  Written by Mary Man-Kong and illustrated by Cardona Studios. Published, July 2000.
Plot
Theodore and Hank visit a cove that seems to be haunted. The two tugboats speed away to safety after they hear a strange sound. But when Theodore has to go back to the cove on a mission, he realizes that things are not as they appear, and the strange sound is not so scary after all.
Characters
Gallery
Ad blocker interference detected!
Wikia is a free-to-use site that makes money from advertising. We have a modified experience for viewers using ad blockers

Wikia is not accessible if you've made further modifications. Remove the custom ad blocker rule(s) and the page will load as expected.