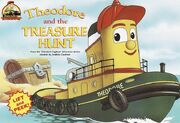 Theodore and the Treasure Hunt is a book written by Mary Man-Kong and illustrated by Francesc Matue. Published 1999-2000.
Plot
Theodore finds a map and it's up to him and Pugwash the Underwater Explorer to locate the treasure. Lift the flaps to reveal starfish under a rock, bats in a cave wall, and much more!
Characters
Goofs
In the second illustration, Theodore is missing his name.
In the second and third illustrations, Theodore has the map on his deck, later for the rest of the book, the map is gone.
Ad blocker interference detected!
Wikia is a free-to-use site that makes money from advertising. We have a modified experience for viewers using ad blockers

Wikia is not accessible if you've made further modifications. Remove the custom ad blocker rule(s) and the page will load as expected.